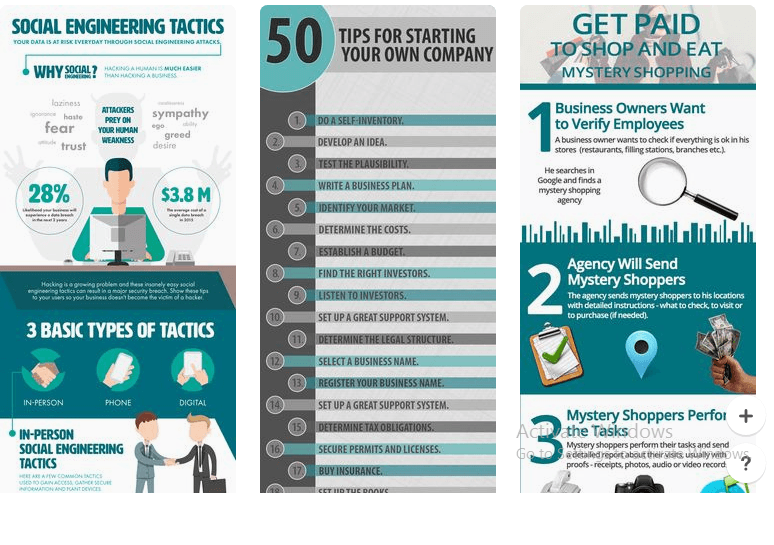 If you are about to run a content marketing campaign, you need to know exactly what will stimulate online growth and engagement. Text-based content is always going to be a part of marketing, but without visual contents types, your content won't attract anyone.
65% of people are visual learners, 90% of information that comes to the brain is visual, and presentations with visual aids are 43% more persuasive, it makes sense to use content types which people have an innate psychological resonance with. Here are main visual contents types of visual content types which will take your marketing campaign to the next level.
1. Images: When you split up a body of text with some compelling images, people are more inclined to finish reading what you've written using original images or ones taken by you, as this adds a much-desired personal touch to your campaign. High quality, attractive images are often expensive to purchase or time-consuming to create.
2. Videos: Videos are incredibly useful for presenting common problems and then showing the solutions that your product can offer. While there are much cheaper types of visual content available, a great video serves as extra clout for your campaign by demonstrating that you're prepared to go the extra mile for quality.
3. Infographics: Infographics are an excellent tool for drawing upon all of your complex data and statistics and collating them into a compelling, easily intelligible visual display. Accompanied by diligent promotional endeavors (including networking with key influencers, landing page optimization, and social media), infographics can become an integral part of your content marketing strategy.
4. Memes: Memes are now commonly known as images that are accompanied by humorous captions. Not many people envisaged that memes would play a role in content marketing when they first started to gain traction online.
Creating your own meme is a great way to give positive emotions and set yourself apart from your competitors. Firstly, you must determine if memes are appropriate for your niche. If your brand identity resonates with a younger demographic, then you have your answer! Another unique benefit of memes is that they allow you to create in-jokes about your industry.
5. Presentations Gone are the days where presentations are restricted to just the boardroom; you can now share your presentation with the world via sites like SlideShare, dramatically expanding the outreach of your business. A great SlideShare presentation allows you to inform and communicate to your audience, no matter what device they are using.
Presentations serve a similar function to infographics, drawing the reader into the text. Although, they differ though by having a greater scope. Thus, if a topic is too lengthy to be appropriate for an infographic, a beautifully crafted presentation can be extremely effective at keeping people engaged with your content.
6. Screenshots With a screenshot, you can provide your audience with a glimpse into the inner workings of your product or service. You can show what services and functions you offer from a direct perspective, and you can even combine your screenshot with some marketing copy or a testimonial to boost your credibility.
Screenshots are very useful for backing up the claims you make in your sales content. For example, if you're marketing an app which can perform certain functions, a screenshot with a caption can be the visual verification your audience needs in order to trust your claims. It's also possible to annotate your screenshots if you wish to draw attention to a particular part of the image (such as which button to click) or provide a more in-depth explanation of what's going on behind the scenes.
Read more about outsourcing content creation services