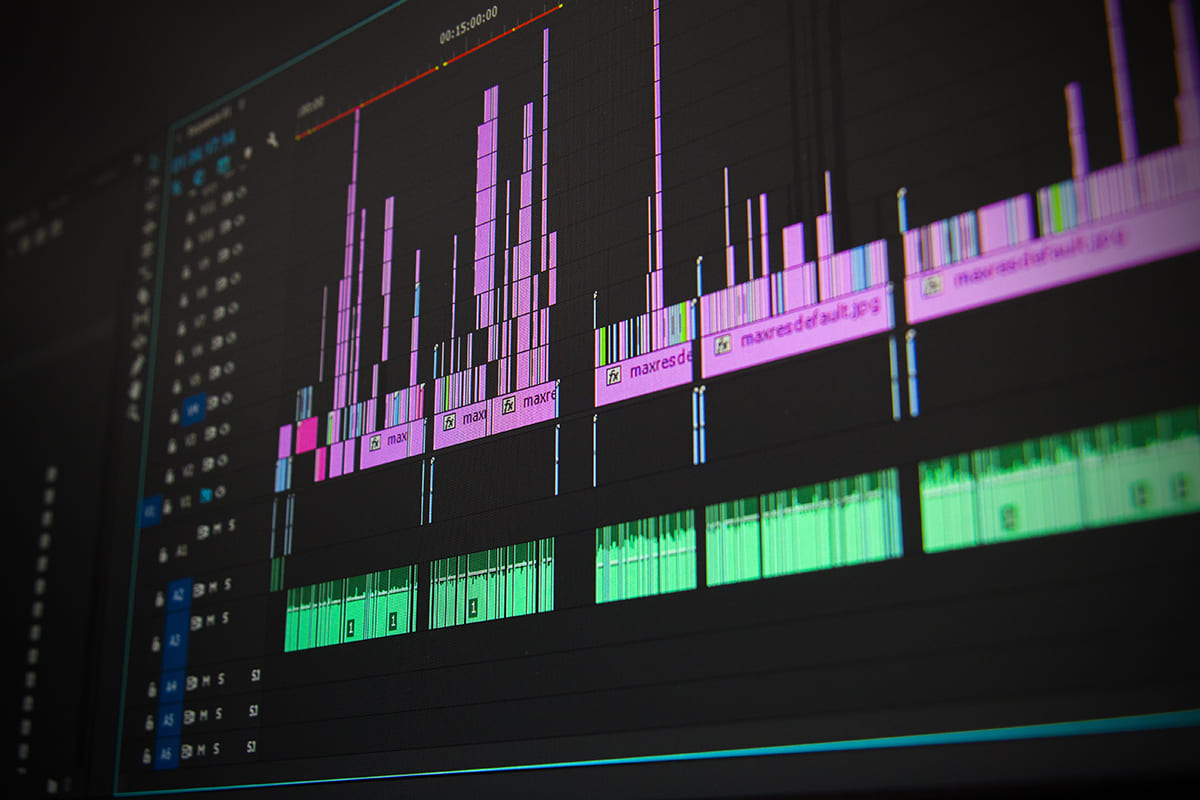 1. Storytelling
A great video editor needs to be a storyteller, which means you must understand the elements to that story. If you're telling a narrative, what is the plot? Who are your characters? What is the conflict of your story? The same applies for a documentary; who are the subjects you will use to help tell the story. What message are you trying to convey? These questions you need to ask before you begin your edit. Once answered, you will have a much easier time piecing together your footage.

2. Instinctual
There are very few hard and fast rules in editing, and most of those are technical in nature. When it comes to the creative side, great editors rely on their instincts to know when to make a cut, how to transition between shots and scenes, and how to pace their edits using different editorial techniques, because there isn't a playbook for editing. You can't say "the best duration for a cut is X seconds long" or "every close up needs to be proceeded by X shot size." Editors have to feel the edit, because that is ultimately what their audience will do. 
3. Use a Fast Computer
No, we're not about to pit PCs against MACs in this section. You can choose whatever computer brand or model you want, as long as it's fast enough for you to store huge files and allows you to focus more on your editing work without having to worry about slow rendering.

It definitely helps to invest in a faster storage drive (SSD) that will allow you to access your files and software faster, as well as speed up your rendering, loading, and export times. Other things you can do to significantly shorten your editing times is to increase your computer's memory (RAM) to at least 8GB if you're going to be doing professional or commercial work, and get the recommended video card and processor for your editing software.
4. Two Is the Magic Number
Oh, the woes of failed hard drives and memory cards. Quick tip: if it's important, keep a copy of it in a separate location. Cloud storage is acceptable, but it's also time consuming when it comes to video. It's always best to keep a copy of your project directory on your computer and on a separate hard drive somewhere else.

When the project is over, and you want to keep an archive of everything, keep the files on yet another hard drive and delete things off your main computer. Your hard drives may never fail, but in the event that they do, it will be worth it.
5. Good finger reflexes
If you're editing on a strict timeline for your client, you need to edit video fast. And editing fast requires knowledge and use of the keyboard hotkeys without much conscious thought taking place.
6. To be versatile
Many editors don't just edit video footage. They also work with audio, color grades, and visual effects to some degree, which means being a jack of all trades will help you reach higher levels in your career. If you don't know much about mixing audio, creating LUTs, or crafting 3D effects, devote some time to learning about these areas of post-production so you can have plenty to offer clients who want to hire you.
7. Trim the Fat
It's very easy to just toss a clip on your timeline as is and call it a day. Don't. Trim the beginning and the end of a clip to keep it clean – find the "hot" moment before you add it. No one wants to waste time watching an open field before the action happens, so get used to editing succinctly for your audience's benefit.
8. Choose Your Weapon Wisely
When choosing a video editor, it's all about control. Do you need something simple that only allows you to throw a few clips together and then add some titles? iMovie, Windows Movie Maker, or the YouTube video editor will be just fine.

However, if you need something a little more complex that allows you to layer videos like Photoshop and utilize keyboard shortcuts… well, then the Adobe Creative Cloud's Premiere Pro (which is used to edit the latest movie releases) is going to be a good pick. However, bear in mind that there's a learning curve to these editors. Sometimes it's good to get started in an introductory prosumer editor, like Adobe Premiere Elements, Final Cut Pro X, or Sony Vegas, first.

YouTube and Vimeo provide tons of tips for any and all kinds of editing, just a search away.
9. Learn Important Terms
The video editing industry will require you to communicate with other video editors or clients, which means you'll have to learn a lot of lingo. To those who haven't heard of them, some of the terms used in video editing can be impossible to figure out without any research, which is why you'll want to learn them early on. Basic concepts include the following:

Jump Cuts – Cutting out portions to skip boring or predictable moments and preserve visual interest.
J Cut – Audio precedes the video.
L Cut – Video precedes the audio.
Montage – Sequence of clips showing the passage of time, usually for a transformation or character development.
Cutting on Action – Cutting when the subject is moving instead of after each movement to create a more interesting and fluid scene.
Match Cut/Match Action – Cutting together two visually similar shots or scenes
Cutaways – Adding transition pieces that don't include the main subject or action to show the surrounding environment and set the mood, add meaning to the scene, or aid dramatic tension.
These are just a few, as there are certainly many other cuts and terms to learn. All you need to do is take the time to read and do your own research.
10. Color Correct Your Clips
Color is a major design element that can be manipulated to highlight certain subjects, evoke specific emotions, and set the mood or atmosphere of your scene. Fortunately, today's video editing programs give us a lot of color editing options that used to be only possible with photos.

Most editors do two things: color correction, to make sure that the colors of your footage are consistent in each scenes, and color grading, to give your film a different look. Both are essential when you want most of your scenes to look as realistic as possible, or to differentiate certain scenes from others, such as when you use presets like sepia and monochrome on "flashback" scenes.
11. Vary Your Shots
Another important thing to consider while editing is to keep your content visually interesting. Rather than just using the same shot for the entire video, try to vary things up with more interesting angles. This can be something as simple as recording your interview with two cameras and switching between them (another way to hide awkward "uhs" and "ums").

However, it's important to use these cuts sparingly. Don't do it every other second. A nice rule to keep in mind is to make cuts based on the beat of the music or at pauses when people speak. If you're cutting fast enough to cause an epileptic seizure (and no, I'm not kidding here), you're doing it wrong.
12. Add Text and Graphics
Depending on your film type, you may have to include more text aside from the title, opening/closing billboards (for broadcasting), and film credits. You'll usually want to keep it simple, with a clean and white sans-serif font that doesn't grab too much attention. Have them dissolve in and out, and see how it works for your film.
But if you need to add flashy graphics, you can create them using your editing software. Adobe After Effects is a popular choice for creating some of the best motion graphics. If you've yet to learn how to make your own by hand, you can always get impressive ready-made After Effects templates from RocketStock.
13. Export Web Versions
Once your video is done and ready to be exported, the natural tendency of most editors is to export it at the largest video resolution possible. This is definitely the way to go if it's going to be played in cinemas and ultra HD screens, but in today's generation where video projects are usually marketed online, you should also export smaller, high-quality versions.
When exporting for the web, the goal is to create a file that maintains its high quality without making it too heavy for upload and online viewing. If you're unsure about the export settings to use, don't worry. Sites like YouTube, Facebook, and Vimeo all have recommended export settings:
| | | | |
| --- | --- | --- | --- |
| Export Settings | Youtube | Vimeo | Facebook |
| Maximum Resolution | 2160p (4K) | 1080p (HD) | 720p |
| Recommended Codec | H.264 | H.264 | H.264 |
| Audio Codec | AAC-LC (up to 96kHz) | AAC-LC (up to 48kHz) | N/A |
| Bit Rate | HD 8mbps at 24fps,4K 45mbps at 23fps | 20mbps | N/A |
| Supported Frame Rates | 24, 25, 30, 48, 50, 60 | 24, 25, 30 | < 30fps |
References: