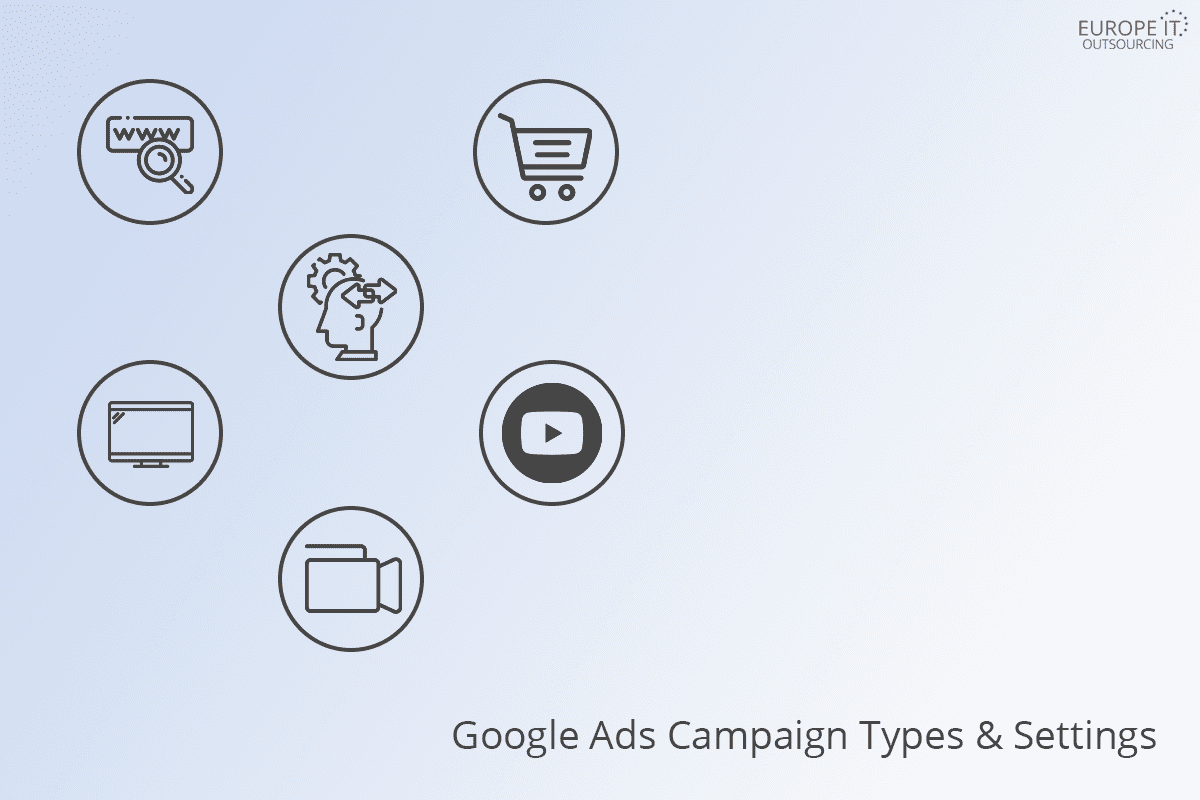 Google Ads Campaign Types & Settings
Advertising with Google Ads starts with creating a campaign. The type of campaign you choose to create should be based on your advertising goals. The campaign type determines where customers will be able to see your ads, but you'll have the chance to make this more specific with additional settings.
1 – Search campaign
In a Search campaign, your ads can appear near Google search results and other Google sites when people search for terms that are relevant to your ad's keywords.
This campaign type is useful for advertisers who want to show their text ads to high-potential customers right when they're searching for related products or services.
Ads are matched to search results pages based on the terms or phrases someone searches. For example, a search on Google for "home plumbing repair" might show an ad that uses that phrase as a keyword.
Search Network campaigns are usually focused on getting people to take action such as clicking your ad or calling your business. These campaigns show ads to people who are actively seeking out information. When someone is intentionally seeking out a product or service like yours, they're much more likely to find your ad helpful, and click it.
A Search Network campaign may be a good option for you if you meet one or more of the following criteria:
You want your ads to appear near Google search results
You only want to reach customers searching for your specific product or service
The goals to use when creating Search Network campaigns are:
Sales
Leads
Website traffic
support.google.com/google-ads/answer
2 – Display campaign
With a Display campaign, your ads can appear throughout the Google Display Network. This campaign type works by matching your ads to websites or mobile apps that include content that's related to your business or to your customers' interests. You can set up targeting to match your ads to the most relevant Display sites based on their topics, interested audiences, demographics, and more.
This campaign type is useful for advertisers who want to generate awareness of their business and target audiences with specific interests across the web.
support.google.com/google-ads/answer
3 – Search campaigns with Display opt-in
When you create a Search campaign, you'll have the option to select "Display opt-in". This selection allows you to show your ads on the search results page of the Google Search Network and relevant placements on the Display Network. With this option, you only need to create search ads and those run seamlessly across both the Search and Display networks.

This type allows you to expand your potential audience. Your ads can reach people as they browse or research similar products, whether they're looking on Google Search or on a relevant website.
4 – Video campaign
With a Video campaign type you can run video ads on YouTube and on sites across the Google Display Network.
This type allows you to engage customers in different ways on YouTube and across video partner sites. Available video ad formats include: TrueView in-stream ads, TrueView video discovery ads, and bumper ads.
5 – Shopping campaign
With a Shopping campaign type, you might see your ads in Google Shopping, next to search results, and near text and responsive ads. They can also show up on Google Search partner websites like YouTube.
This campaign type is useful for retailers who want to promote their online and local inventory, boost traffic to their website or local store, and find better qualified leads.
6 – Universal App Campaign
With a Universal app campaign type, you can easily promote your app across Search, Display, and YouTube.
Your ads and bids are automatically adjusted to get the most downloads for your app. All you need to do is provide some text, a starting bid and budget, and include the languages and geographic locations for your ads. Our system will then test different combinations and show the best-performing ads more often.
Learn more about what make Google Ads go on top
Campaign goals
After you've selected a campaign type, you can select goals for your campaign based on the actions that you'd like your customers to take — like making a purchase or contacting your business.
If you choose to use goals, you'll see recommendations for features and settings that can help you meet these goals. Please note that adding a goal will not affect the auction or serving.
Campaign settings
The campaign type you choose determines where customers will be able to see your ads, but there are a few more settings available to help you tailor your campaign. Keep in mind:
The campaign settings you select will apply to all ads within the same campaign.
The type of campaign that you choose determines which settings are available.
Adjust your campaign settings
When you're creating a new account or adjusting settings on an existing account, here are some of the options you'll see, based on your account type. Let's take a look at what each setting can do for you.
Press each "+" to learn more about each setting.
Campaign name: This is where you enter a name for your campaign. Although Google Ads enters a default campaign name for you, you may rename it so that you can easily find it in your account. Your campaign name isn't visible to your customers.
Campaign type: The campaign type that you choose tailors the campaign set-up to what's appropriate for your goals. If you tell Google Ads your advertising goals, you'll see relevant suggestions over time based on the goals that you select.
Networks

The Networks setting indicates where you want your ad to appear based on the campaign type that you chose. For example, with the Google Search Network, your ad can appear on Google search sites and non-Google search sites (such as CNN) that partner with Google to show search ads, called search partners.
With the Google Display Network, your ad is displayed on other sites that partner with Google to show ads.

Devices: Campaigns target all types of devices, including desktops, tablets, and mobile devices. Later, you can choose to customize ads for different devices.
Locations and languages: Your campaign's ads are eligible to show to customers in your targeted geographic locations, or to customers who have selected your targeted language as their browser's language setting. We recommend choosing the language that you serve your customers in.
Bidding and budget:

Choose to manually set your bids for clicks on your ads or let Google Ads do it for you. Depending on your campaign type, you may see additional bidding options to choose from.
Your bid strategy controls how you pay for users to interact with your ads. Your bid limit is the most that you'll pay per click for ads in an ad group. Your budget is the average amount that you're comfortable spending each day on your campaign. The budget that you choose is entirely up to you, and you can adjust it at any time.

Ad extensions: Include even more information with your ads, such as location information, links to pages on your website, and your phone number.
Additional settings:

Schedule: Set a campaign start and end date
Ad scheduling: Choose certain days or hours of the week for your ads to show
Ad delivery: By default, Google Ads shows your ads when they're more likely to get clicks or conversions, but you can choose to show your ads more evenly throughout the day
Advanced location options
Campaign URL options